IT2 and Capman
Investor and Management building value together
IT2 had a strong reputation in Treasury Management, with a highly profitable and successful Services business supporting the core software business.
However, the business was facing challenges  in several areas:
Although the services business was profitable, it was proving hard to scale at pace
The core architecture of the software needed to be assessed to enable forward development
Competitors had less complete product sets, but larger scale in a global market
Capman wanted to align the Management and investor views on direction, and provide assurance of profitable growth.
Reconsulting facilitated an initial strategy alignment session with participation from the Executive team and technology industry experts from Capman. This provided a clear roadmap for the growth strategy.
In the second year, Capman and IT2 asked Reconsulting to provide a broader scope of services – "it was a mistake not to include broader governance support and development for the leadership team."
Beginning in 2008, Reconsulting worked with the Executive Team to help them refresh the strategy, and fully implement a transparent Governance process, providing Kevin Grant, the CEO as well as Capman with visibility to progress on strategic initiatives.
IT2 invested in our support to develop the top 2 layers of Leadership focusing on establishing the High Performance Culture needed  to deliver on the aggressive growth plans.
In 2012 IT2 was sold to Wall Street Systems, following 5 years of sustained growth and increasing market share.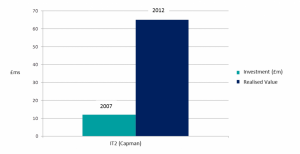 By 2012 Reconsulting had helped IT2 develop and implement a Programme Office to sustain clear reporting against strategy, and the business had grown profitably at close to a 20% CAGR, notwithstanding the downturn in the Global Financial Markets sector.