Steve Calderbank
Favourite quote?
"You can't teach a person anything, you can only help them discover it for themselves"
What gets him excited?
People stuff! And working with leaders to get outstanding results from the "inside out" without an army of consultants.
Proudest moment?
Recalling my role as a father of the bride to my only daughter, walking her along a beach in Mexico in the presence of all my loved ones makes the hairs on my neck stand on end!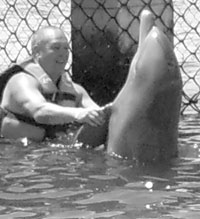 "The way I see it, it's not a business problem, it's a leadership opportunity."
Steve built his career success on a foundation of 18 years at the Co-operative Bank plc, holding management positions in IT, Training, Service Quality & Customer Operations.
Steve is a graduate of the Royal Naval Leadership College and a former Royal Navy diver. He instructed the Naval Reserve Forces until 1994.
In 1995 he joined QVC (the shopping channel), as General Manager Customer Operations in Liverpool and went on to lead a multi-national team of operations specialists to start up business ventures in the U.K., Germany and Japan.
In 2003 his career transitioned towards consultancy where he has participated in the development of leadership, strategic alignment, teamwork and culture change assignments. Clients have included BSkyB, Tesco, BT & The Learning Skills Council.
His belief in the importance of core values has given him a deep insight into the humanistic aspects of business organisations. Steve sees life through a unique lens that has helped him connect with people more effectively and become an authentic and influential leadership coach. He sees people as a unique un-tapped reservoir of wisdom and learning.
Steve is passionate about the development of "healthy" high performance cultures and works with senior teams to maximise leadership, continuous improvement and teamwork that delivers real business results.
Fun is an important aspect of Steve's life both in and out of work. He sees the appropriate use of humour as a powerful productivity tool that helps provide perspective in meeting the challenges facing today's businesses.
He recently fulfilled one of his boyhood dreams by establishing himself as the landlord of his local village pub and becoming an accredited member of the British Institute of Innkeepers.
Steve enjoys most sporting activities including skiing, diving, football albeit the latter being more in a spectator capacity! He loves to spend quality time with his wife, children and three grandchildren, all of whom he is extremely proud.